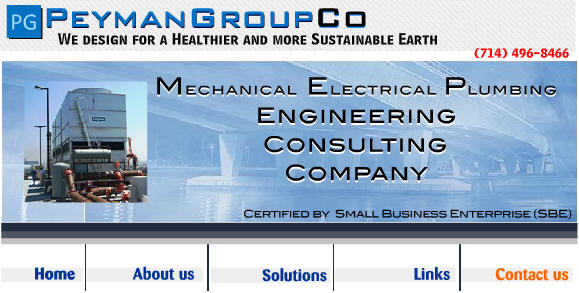 Energy Calculation and Title 24 Report

Title 24 is California Energy Code, part 6 of the California Building Standards Code, also titled The Energy Efficiency Standards for Residential and Nonresidential Buildings, created by the California Building Standards Commission in 1978 to reduce California's energy consumption.



Peyman Group specializes in Title-24 Energy compliance reports. A Title 24 energy report is required to receive your building permit and validates your building project compliance with California's Title 24 building energy standards.

Title 24 report is required if you construct a new building, change conditioned square footage or volume of the existing building, change exterior envelop of the existing building like increasing window sizes, change system such as Upgrading water heater or furnace, redo the ductwork, and change the type of heating or cooling system.

With our experience in load calculation, California energy codes and regulation, and thorough understanding of building materials and equipment we can accurately perform the best cost-effective solutions in design and energy performance to your existing or new building.

Using EnergyPro Software, we provide you with Title 24 compliance report and calculations on your projects, with the minimum requirements and very cost effective design. Our professional service covers Orange County, Los Angeles County and all cities of the State of California.
(Refer to our Cities & Counties list in Links Page).

Peyman Group can provide Title 24 report in lieu of design for your project by providing plans showing the following information for your Title 24 Report:

Project location, designer's name, address, and telephone, owner's name, address and telephone, orientation of building (north arrow), total living area, new addition area, existing living area, total living area for each floor, ceiling height, wall thickness, locations and sizes of windows and doors, skylight, exterior elevations, existing equipment information, such as HVAC and hot water heating system equipment, kitchen lighting plan with number of fixtures and their nominal wattage and lighting and processing plans estimating maximum wattage usage or simply submit equipment schedule and cut sheets if available.

Architects, Designers, and Owners can send us their projects through this website or email and conveniently receive Title 24 report by mail. Please contact our office for more assistance.
Professional Engineering
Design Services

More Professional Services